Congratulations to Darren O'Shaughnessy at AFL Live Ladders for topping the 2018 Squiggle computer models leaderboard with 147 tips!
147 was a popular number: That's also the number of correct tips recorded by Punters (an average of many bookies' closing lines) and Aggregate (an average of models in the competition). I noticed The Roar's "The Crowd" scored 147, too.
That's a good showing, and one that demonstrates, I think, a real "wisdom of crowds" effect, where the average tip is smarter than most of the individual tipsters it's averaging. There was a lot of variation between models across the three tracked metrics (correct tips, Bits, and Mean Average Error), but Aggregate finished near the top on all of them. In fact, had it not been for one wild model tip in the West Coast v Melbourne prelim, Aggregrate would have finished clear on top with 148.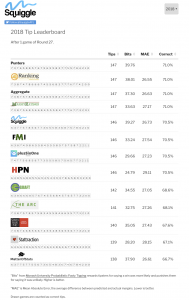 Massey Rankings, new to the Squiggle leaderboard in 2018, had a great year, correctly tipping the Grand Final to equal AFL Live Ladders on 147 tips. (We tie-break on Bits.)
In terms of MAE, AFL Live Ladders was #1 here, too, with a delightful 26.55 for the season, narrowly beating out Matter of Stats (26.61) and Aggregate (26.63).
On Bits, Squiggle was the best computer model with 39.27, although was narrowly pipped by Punters (39.76) overall.
Tony Corke at Matter of Stats had a year that demonstrates why the number of correct tips is a noisy metric, jostling for top spot on MAE and Bits but coming dead last in tips. This was never more evident than in Round 20, where Matter of Stats got the wrong end of all four of Super Saturday's 50/50 games. Sometimes football is a harsh mistress.
HPN's new model PERT provided tons of contrarian excitement, being the only one to tip 9/9 more than once — it did it three times — and finishing a solitary tip behind the leaders. This came about despite blowouts in MAE and Bits, so it will be interesting to see how it backs up in 2019.
Stattraction, also new this year, stumbled early, then made an extraordinary 24/27 run to close out the home & away season.
plusSixOne recorded the most correct finals tips with 7, including the Grand Final. It also finished only 1 behind the leaders for the year, along with Footy Maths Institute, who fought a highly entertaining running battle for outright leadership that came unstuck only in the finals.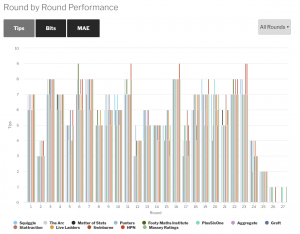 Heartfelt thanks to all the model authors — as well as those I've named, there's also The Arc, Graft, and Swinburne University — who allow me to aggregate their tips! They do fantastic work and I hope that a comp like this means more people get to see it.
I also hope this site is useful to model builders out there who just enjoy playing around with footy numbers and want to know how their tips compare. (See: the Squiggle API.)
And thank you to the regular human visitors, who just like to keep an eye on what the models are saying.
The off-season is time for model tuning, so I hope our current crop will be back in 2019 with new and improved engines! I'd also love to add new competitors to keep them on their toes — if you'd like to join the fun, please check out this wishlist and contact me via Twitter.
Have a happy off-season! May your trades be fruitful, your drafts foresighted, and your spuds delisted.
Max.