With the home & away part of the season virtually complete, here's the final ladder!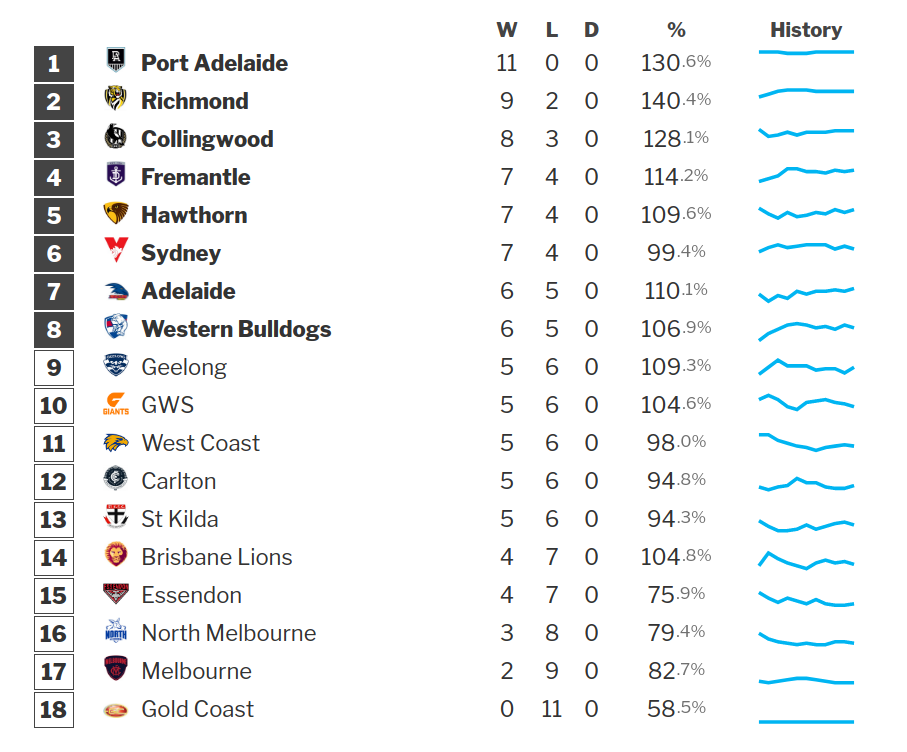 Yes, an undefeated season for Port Adelaide, and a winless one for Gold Coast. Other highlights:
Sydney finished 6th (and were top 4 with a round to go) with a sub-100 percentage, thanks to a series of close wins.
Fremantle also surprised and delighted, in what may be a more sustainable way, climbing steadily as the season progressed.
Similarly Adelaide jumped into the Eight in the final round, defeating GWS.
Richmond seem to be peaking at the right time, with a dominant display in the final two rounds.
West Coast lost five in a row early but seemed to be getting back on track before running out of time.
The comp was featured on AFL.com.au.
Thanks to Stattraction, we have Coleman Medal results:
Yes, that's a shared Coleman. Also a low-scoring Coleman, thanks to a simulation bug that afflicted the first half of the season and stole goals from each team's main scorer. Also scores in general were down, since we were simulating 16-minute quarters.
Finals begin Wednesday June 3rd at 7:50pm EST and continue almost every night for the next week.