Oh sure, now, everyone looks back on the preseason ladders and mocks how wrong they were. "Essendon to make finals," they say, shaking their heads. "Not even close."
But no-one was close, of course; everyone's ladder has a howler or two. If you picked Essendon to fall, you probably didn't also pick Collingwood to rise, or Port Adelaide to miss.
That doesn't mean they're all equally bad, though. Here at Squiggle, we value the signal in the noise, even if there's still a lot of noise. And ladder predictions that were less wrong than everyone else's are to be celebrated.
Every 2022 Expert Ladder Prediction Rated
Best Ladder: Peter Ryan
This is a heck of a good one, and it's no flash in the pan:
Ryan's ladder managed to get 7/8 finalists, which is fantastic given that three of them finished last year in 11th, 12th, and 17th. (His tip of Fremantle for 6th — a single rung too low — was especially good.) Like everyone else, he missed Collingwood, but correctly foresaw exits by Port Adelaide, Essendon and GWS. He also resisted the popular urge to push Geelong down the ladder, and wisely slotted the Eagles into the bottom 4.
Damian Barrett also registered a good ladder this year, with 6/8 finalists and three teams in the exact right spot. There was a fair gap from these two to Jake Niall in third.
Runner-Up: Damian Barrett
Best Ladder by a Model: Squiggle (6th overall)
Squiggle nudged out other models with some optimism on Sydney and pessimism on Port Adelaide, but not enough of the former on Collingwood and not enough of the latter on GWS and the Bulldogs.
Honourable Mention: The Cruncher (11th overall)
Long-Term Performance Award: Peter Ryan
Not everyone publishes a ladder prediction every year — it's a little shocking how frequently journalists come and go from the industry — so although I always have a bag of 40 or 50 experts and models to rank, only half appear in all four of the years I've been doing this. Of those, Peter Ryan has the best record, finishing 19th (out of 45), 9th (/56), 3rd (/42) and 1st (/45). That's an average rank of 8th, making him the only one to outperform Squiggle over the same period.
Honourable Mention: Squiggle (5th, 20th, 9th, 6th)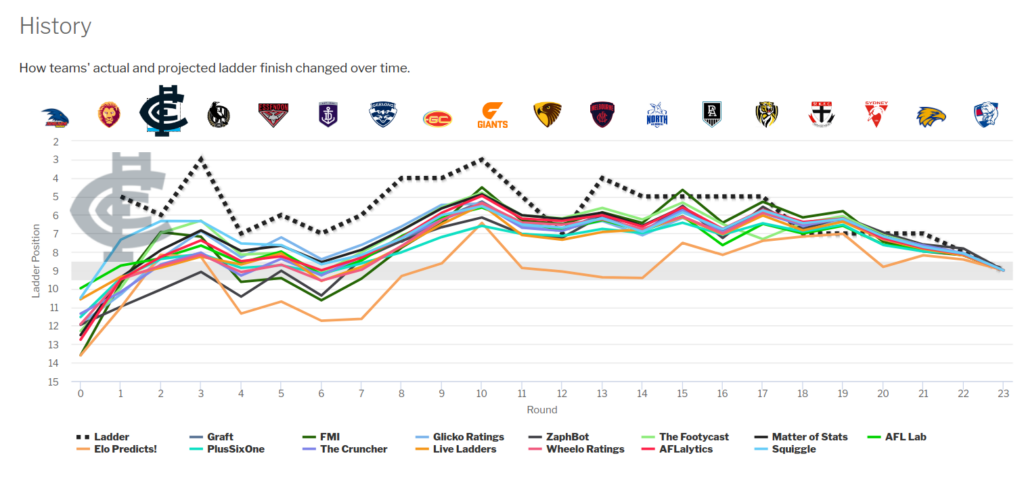 Live Running Predictions
Squiggle pipped AFLalytics and Wheelo Ratings on the Ladder Scoreboard this year, mostly thanks to some solid returns in the early rounds.
Throughout the year — but especially early — the teams models overrated the most were GWS and Hawthorn, while they underrated Collingwood and Fremantle.