Heading into 2021, there was a bit of hive mind syndrome going around:
So everybody had Richmond way too high, and Melbourne, Sydney and Essendon too low. Collingwood were generally tipped for somewhere around mid-table, often pushing into the Eight, as were St Kilda.
This same-same field of predictions delivered neither a spectacularly good nor spectacularly bad ladder. Instead, everyone was just kind of okay. The average was better than just tipping a repeat of 2020, but not by much.
Every 2021 Expert Preseason Ladder Rated
Best Ladder: Daniel Cherny
All year long, the Western Bulldogs looked a deserving top 2 team. Then they plunged from 1st to 5th in the final three rounds, upending a lot of ladder predictions along the way. A benefactor was Daniel Cherny, who'd tipped them for 6th, and suddenly had the best projection out of anyone. He had 6 of the Top 8, missing Sydney & Essendon for Richmond & St Kilda, and half the Top 4. He also wisely tipped Collingwood to fall further than most (although not as far as they actually did).
Runner-Up: Sarah Black
Best Ladder by a Model: The Flag (6th overall)
After coming second in this category last year, this was a great performance by The Flag, nailing three out of the Top 4, with Richmond the only miss.
Honourable Mention: AFLalytics (8th overall)
Lifetime Achievement Award: Peter Ryan
Of the 26 experts and models I've tracked for three consecutive years, Peter has the best record, averaging 65.03 points across that period. He's been getting better, too, finishing 19th in 2019, 9th in 2020, and 3rd this year.
Honourable Mention: Squiggle (5th in 2019, 20th in 2020, 9th in 2021)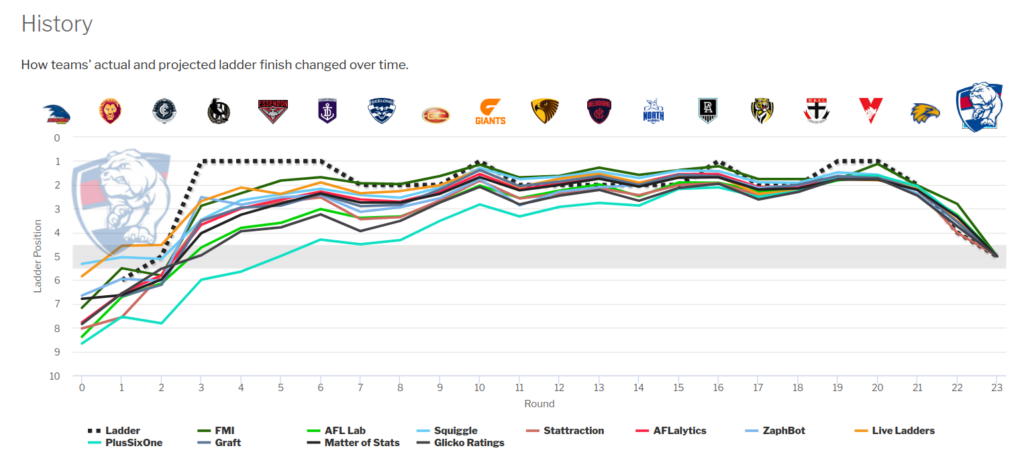 Mid-Season Predictions
If you're interested in how models predicted the final ladder during the season, head on over to the Ladder Scoreboard. New model Glicko Ratings scored best this year, while as usual all models significantly outperformed the actual ladder.