Here's Squiggle's own in-house ladder prediction for 2020 (not to be confused with the Aggregate Ladder, which combines this plus predictions from many other AFL models).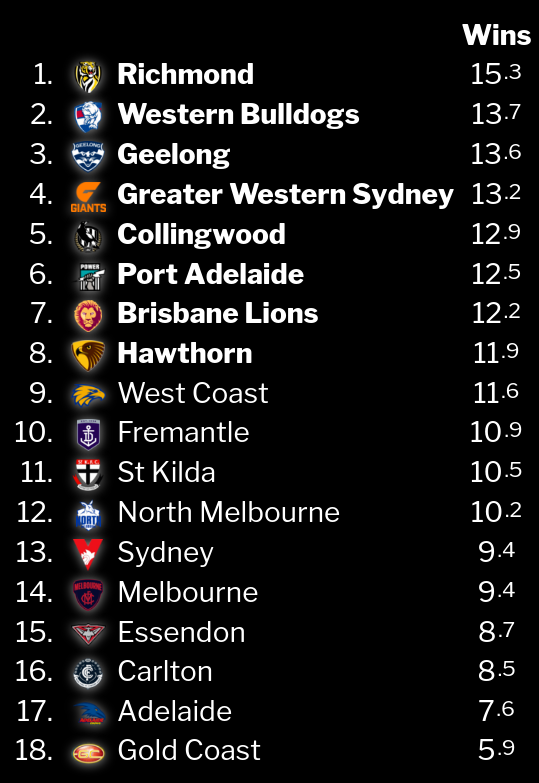 This prediction accounts for:
2019 form
Trades, retirements, delistings and returns
2020 preseason form
Injuries to players listed as "Season" or "Indefinite"
The league was very even in 2019, so it's going to be harder than ever to make a good ladder prediction. But this is what I've got:
2019 Form
Squiggle's top teams at the end of 2019 were Richmond, Geelong, Hawthorn, and Collingwood. The Cats were widely lambasted for their post-bye form last year, but it wasn't actually that bad – it was just clearly less good than their 11-1 start (at a percentage of 151%).
The Hawks had a strong finish, Collingwood were 4 points shy of a Grand Final, and Richmond were, well, Richmond.
Notably absent from Squiggle's 2019 Top 4 were West Coast (8th), Brisbane (5th), and, despite their late surge, the Bulldogs (6th). Squiggle was bearish on the Eagles throughout 2019, primarily because of their reliance on high goalkicking accuracy to win matches – something that, despite much effort, no team has ever been able to sustain for long.
Trades, Retirements, Delistings and Returns
Squiggle uses AFL Player Ratings to gauge the likely impact of list changes between 2019 and 2020, including the return of players who missed games late last year. This last factor is often the important one, as most clubs put out weakened teams towards the end of 2019.
On this measure, the most upside is in Fremantle (regaining Lobb, Ryan, Wilson, Hogan*, Hill, Pearce, Colyer, and Cox, while recruiting Acres and Aish), GWS (regaining Coniglio, Whitfield, and Ward, while recruiting Sam Jacobs), followed by Gold Coast, Collingwood, and Carlton.
At the other end of the scale, the only club to have gone backwards is Adelaide (losing Greenwood, Jacobs, Douglas, Betts), while Brisbane (losing Hodge), Richmond, and North Melbourne have relatively little to add to their sides in 2020.
There's been a lot of talk about Tim Kelly, but despite his stellar numbers, his trade doesn't single-handedly drag Geelong or West Coast out of the pack (in either direction).
2020 Preseason Form
The preseason usually contains a few hints about regular season form, and at this time of the year, we don't have much else. The best pre-performers in 2020, after accounting for the quality of their opposition, were Gold Coast, GWS, St Kilda, Essendon, Port Adelaide and Melbourne.
The worst were Geelong, Carlton, Hawthorn, Richmond, Adelaide, and Sydney.
Long-Term Injuries
For most of the off-season, Squiggle rated Hawthorn a Top 4 team in 2020. But long-term injuries to Howe, Impey, and Hardwick have sent them tumbling to the lower reaches of the final 8.
Also hampered by long-term injury this year are Fremantle (Hogan, Hamling), Collingwood (Beams, Greenwood, Langdon), and Carlton (Curnow).
Summary
The punditry is big on West Coast this year, with the Eagles a popular flag tip and Top 4 lock. Most computer models, however, are much cooler, placing them no higher than 3rd and as low as 11th.
Models have a pretty good record in situations like this, when there's a divergence of opinion but not because people know something that models don't. However it shakes out, it'll be interesting to watch.
Squiggle is high on the Bulldogs, ranking them 2nd, although only by a slim margin. What's remarkable about the Dogs is how young they are: They've been fielding shockingly young teams for two years. Younger teams lose matches pretty reliably, so the ability of the Dogs to make finals in 2019 despite their age profile speaks to their potential upside.
More than any time since 2000 – perhaps since 1993 – we have a very even field entering the new season, so expect surprises! We could have a very volatile ladder, with teams surging and plummeting on the ladder, and a large middle cluster that sits within one or two games of each other.